Screen Doors

Why would you get a
custom screen door
from
Iron Scroll of Yuma
instead of a pre-made door from your local building supply? First, a locking door from your local building supply will need to be mounted outside the door jam, and the molding around your doorway will have to be removed. Our
custom screen doors
are built to install within the door jam, no need to remove the existing molding and are completely lockable. Second, the cost between a
custom door
and a pre-made one is actually comparable by the time you pay for installation. Third, we guarantee a complete seal, and you have your choice of wire or perforated screen, color, and style.
Window Guards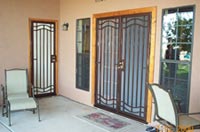 For added protection, we can build attractive
iron window guards
in any color and style you like. Because everything is made from scratch, the guards can be designed to match your windows exactly. All
window guards
are coated with a
baked-on epoxy primer and then powder coated
for appearance and durability.