Pool Fences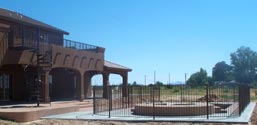 Iron Scroll of Yuma is proud to build the finest
pool fence
you'll ever own. Many pools have a curved pool deck that adds aesthetics and style to their home. Buying a
pool fence
from your local big-box building supply store limits you too straight line fencing. At Iron Scroll we start by building the fence to look exactly like you want, then we bring the fence along with our specialized equipment to your house and match the curvature of the
fence
to the edge of your pool deck. You'll never find that much attention to detail with a big-box retailer or their installers.
All
pool fences
include one
self-closing gate
which can have a non-locking latch or an optional double lock box so when you're not there nobody's in your pool. Some other
ironworking shops
just
powder coat
their fences, but Iron Scroll applies a
baked-on epoxy primer before powder coating
everything we do.
Iron Gates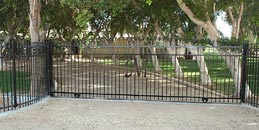 Whether you're allowing foot traffic or vehicles onto your property,
Iron Scroll of Yuma
can build the
custom iron gate
to match your home's color and style.
We can make
single-gate pedestrian gates
up to three feet wide.
Double gates
can be up to fourteen feet wide. Our
custom built gates
are made from scratch to match the
custom made fences
they're attached to. Everything from the style and appearance of the
gate
to the color of the
powder coating
can be designed around your home for the perfect match.
Sliding gates
allow easy access for authorized vehicles. We can install them as manually opened or automatic. The
automatic gates
have a variety of control types to match your needs: visor and keychain remotes; proximity sensing automatic openers; and drive-up keypad controls. Whatever your need,
Iron Scroll of Yuma
can
create and install the gate that completes your home
.
Sliding gates
can be made up to thirty feet long.

Perimeter Fences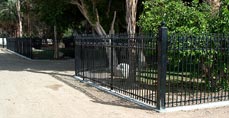 To protect your property while keeping the feel of home, a
custom made iron fence
can outline your property and keep unwanted intruders off your land. We can create a variety of
iron gates
to control where and how people enter your property. Like all of our products, our
fences
are built from scratch, welded and sand blasted, then
sprayed with baked-on epoxy primer and powder coated
with the color of you choice.