The Iron Scroll Inc.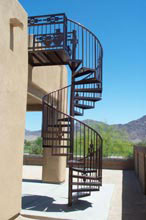 We build iron fences, gates, spiral staircases, and window guards. At Iron Scroll of Yuma, we pride ourselves on offering the absolute best in quality, durability, style, and service. Everything we make is coated with an epoxy primer and then powder coated for exceptional longevity.

We've been making iron structures since 1972 and our reputation often precedes us. Many general contractors and homeowners in the Yuma area know all about the quality products and services we provide and why we're head and shoulders above the competition. Our fabrication shop is equipped with everything we need to cut, weld, prep, and powder coat everything. Some of our equipment comes with us for special on-site modification of the iron, providing a fully customized product that matches your property exactly.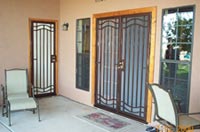 Our spiral staircases provide attractive access to unique spaces in your home. Our gates help you protect your home by restricting access, while still appearing luxurious and attractive. For a pool fence that truly matches your estate you can't go to the local building supply store, you need Iron Scroll to cut and construct the fence - completely tailored to the design of your swimming pool. For extra protection, we can create matching window guards that look just as beautiful as the rest of the estate.